Do you have any questions? Would you like further information?
You can contact us

Head Office
3, Rue El Messaoudi, Angle Bd Massira El Khadra,
Maârif. Casablanca – Morocco
REQUESTS AND SUGGESTIONS
If you would like to request information, please complete the form below :

Gift cards

By offering an AKSAL gift card, you will be sure to never let anyone down, while guaranteeing a freedom of choice through a wide array of products that evolve with the collections.

Are you looking for an original gift idea, an alternative to traditional gifts? Designed to perfectly meet corporate needs, the AKSAL gift cards are ideal for corporate gifts, as well as for incentive, motivation, promotion, or even sponsorship operations.
Corporate offering

You are a company established in Morocco, and you would like to offer original gifts to your employees. Complete the form below, we will contact you as soon as possible :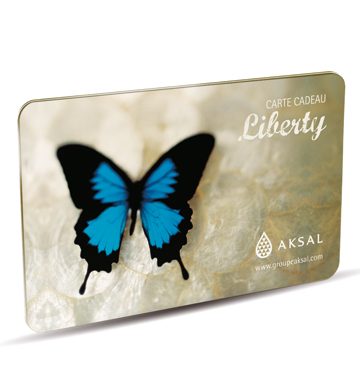 AKSAL Liberty card
Offer the freedom to choose with the AKSAL Liberty card
Une carte cadeau prépayée non nominative acceptée dans tout le réseau de nos franchises retail respectives au Maroc (Zara, Massimo Dutti, Uterqüe, Bershka, Pull and Bear, Banana Republic, Oysho, Zara Home, Fnac, GAP, M.A.C Cosmetics, Lefties, Yan&One, Maisons du monde)
You can activate this card starting from MAD 300 and it can be used freely until the credit is spent. The AKSAL Liberty card meets the needs of our customers, as well as those of companies seeking original gift ideas.
If you would like to offer the AKSAL Liberty gift card, there is nothing easier :

1. Go to one of the participating stores.
2. Activate your card with the credit amount of your choice (starting from MAD 300) in one of the participating stores.
3. Offer AKSAL Liberty! The happy recipients can pay for their purchases in the participating stores of their choice by using this card as a payment method in the brands listed above.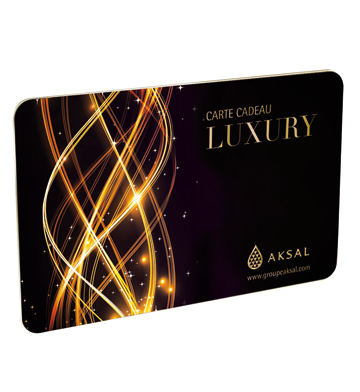 AKSAL Luxury card
Offer a world of privilege with the AKSAL Luxury card
For the best gift of all, the most elegant touch or the most unforgettable celebration, offer the AKSAL Luxury gift card, a unique, distinctive card which will open the doors to the most luxurious fashion brands.
Available at the participating luxury chains starting from MAD 1000*. *.
* Ce montant peut être utilisé dans toutes les enseignes Luxe du AKSAL participant au programme.
Loyality cards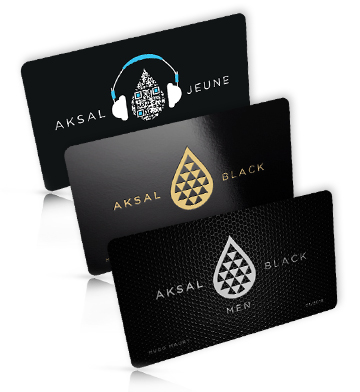 AKSAL Black Card
La relation client et tout particulièrement la fidélisation sont au cœur de la stratégie du AKSAL.
Launched in 2013, AKSAL Black is the first multi-brand loyalty programin Morocco, positioned as a cornerstone of the loyalty system of the AKSAL brands and the Morocco Mall. It comes under 3 main programs :
AKSAL Black
AKSAL Black Men
AKSAL Young
Exclusives et confidentielles, ces cartes fidélité ouvrent l'accès aux dernières tendances de mode, aux nouvelles technologies et à l'art de vivre. Des services inédits et des avantages exclusifs sont offerts aux membres faisant partie de ce cercle très restreint au sein des enseignes du AKSAL.
AKSAL Black :

Pampers you……
Access to exclusive services, valet parking, VIP parking, personal shopper, home delivery, payment in instalments, simple alterations, advice and guidance, …
Treats you……
VIP invitations, discoveries in grand premiere, special discounts, premium advantages …
Rewards you…
Crystal, Jade, Platinum, Saphir and Diamond Awards… Unrivalled gifts are reserved just for you …
Program Characteristics:
The AKSAL Black « Circle » offers ultra-customized services and high-end guidance to its members.
« AKSAL Black » operates like a private circle. Membership is by invitation or sponsorship after reviewing the application.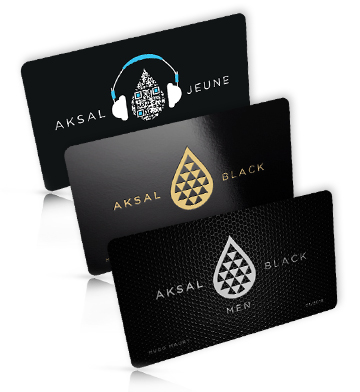 Membership form;